Compliments ...?
As often as I can, I make it a point to try and visit some of the older craftsmen working in the field of woodblock printmaking. As I have no 'teacher', I very much need to hear their advice and comments on my prints. But because I am working as both carver and printer, I have to make twice as many visits ...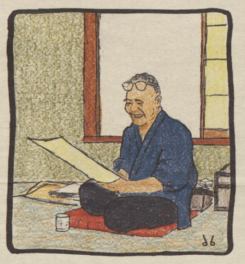 The printers I visit are of course very much expert at their job - printing. But they are sometimes not so familiar with details of the carvers' work. I remember the first time I showed my prints to one of these men. He looked at them carefully, and then tried to think of something nice to say to me. He finally came out with, "Well the carving is very nice!" He didn't have much to say about the printing ...
A short time after this, I visited a carver. He looked over my prints, and perhaps you can guess what his comment was. "Mmmm. Nice printing!"
Of course, each of these men could easily see the defects in my work in their own specialty, but not so well on the 'other' side. But anyway, I was happy. I had made two visits to very experienced craftsmen, and had come away with two very nice comments!
Do you think they were really compliments?