Wok
| | | |
| --- | --- | --- |
| for Linux/Windows | Wok ver. 1.0 | (c) Kenta Cho(ABA."Saba") |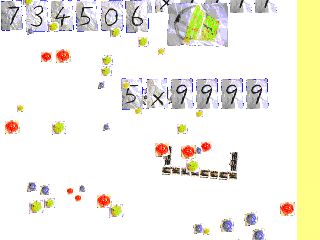 Oddly attractive ball tossing game, Wok.
The game objective is very simple. Catch the falling balls by the wok(a flying pan) and throw them to the right. You can control the wok by mouse.
To earn more score, you should throw many balls continuously. Collect many balls on the wok, and throw them at the same time.
If a ball falls to the lower end of the screen, the game is over.
Wok works on Windows98/2000 and Linux.
These libraries are required to play Wok on a Linux system.
SDL-1.2.2
SDL_image-1.2.0(with PNG support)
SDL_mixer-1.2.0(with Ogg Vorbis support)
libao-0.8.0-2
libogg-1.0rc2-2
libvorbis-1.0rc2-2
Wok is the free software.
If you have any comments, please mail to cs8k-cyu@asahi-net.or.jp