BulletML
| | |
| --- | --- |
| BulletML ver. 0.21 | (c) Kenta Cho(ABA."Saba") |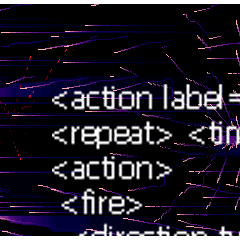 Try BulletML demo applet to know what BulletML is like. (Internet Explorer or Netscape Navigator 6 required)
Download the source files and BulletML definition files.
BulletML is the Bullet Markup Language. BulletML can describe the barrage of bullets in shooting games. (The storm of Progear, Psyvariar, Gigawing2, G DARIUS, XEVIOUS, ...) There are many advantages for using BulletML.
BulletML can describe the complicated barrage of bullets in recent shooting games easily.
BulletML demo applet is available. Write BulletML document, and check it on this applet.
BulletML is XML-based language. It offers data portability and reusability.
BulletML RELAX definition and demo software are the free software.
BulletML is defined by a RELAX grammar. Java classes that handle BulletML documents are generated by Relaxer.
If you have any comments, please mail to cs8k-cyu@asahi-net.or.jp.