Page and Plant Live in Tokyo '96 (4th Night)
---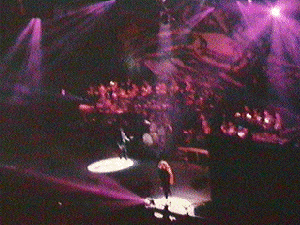 Venue : Nippon Budokan, Tokyo, Japan
Date : 02/09/96
Source : Stereo-Audience
Total Time : 125min (Complete)
Genaration : DAT Master
Tape Speed : Normal
Quality :
Photo Upper: In The Evening / Below: Kahimir 2/9/96
---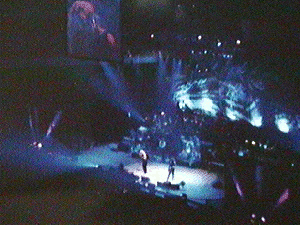 SETLIST
The Rain Song (No Tape Intro)
No Quarter
Babe, I'm Gonna Leave You w/Stairway ending
Immigrant/Wanton Song
Heartbreaker
Ramble On
Hurdy Gurdy Solo
Gallows Pole
Whole Lotta Love
-Spoonful
-Break on Through
-Dazed and Confused
Tea For One
Dancing Days
Yallah
Four Sticks
In the Evening/Carouselambra
Kashmir

Black Dog (Intro:Out On The Tiles/Ending:In My Time Of Dying)
Rock and Roll
---
COMMENT
4th night of Tokyo 6-days.
I was in the 2nd floor, almost near the top of hall!!
Before opening, one stool was set on stage.
Lights off and starting show from THE RAIN SONG with All Nippon Symphony Orchestra.
(I heard that they are session players only for the japan tour.)
Page put on green satin shirt, Plant put on black no sleeves.
They were looked very relaxed and enjoying a variety of setlist.
There were few influence by lacking of support guitarist.
Only RUMBLE ON sounded slight simply.
Tonight's highlight was complete version of TEA FOR ONE.
It was played 2nd times. (2/8/96 is 1st.) Melancholy but big scaled slow number.
In ROCK AND ROLL, Page jumped after solo like the movie TSRTS!!
Page and Plant embraced each other twice after encore. (It was looked like SUMO pose for me.)
No TSRTS, No SIBLY, but good show!!
---
You can get sample sound from this tape(.WAV)

---
Back Home