Page and Plant Live in Tokyo '96 (3rd Night)
---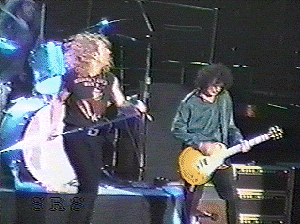 Venue : Nippon Budokan, Tokyo, Japan
Date : 02/08/96
Source : Stereo-Audience
Total Time : 125min (Complete)
Taper : Masaya Tanaka
Genaration : 1st Gen. from DAT Master
Tape Speed : Normal
Quality :









Photo Upper: What Is And What Should Never Be / Below: The Rain Song
(from Bootleg Video in 2/08/96. Excellent direct-shot, not from screen.)
---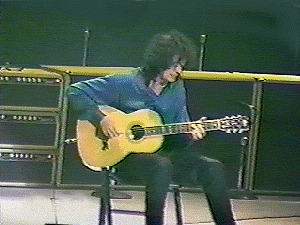 SETLIST
Egyptian Intro (Tape)
Celebration Day
Bring It On Home
Heartbreaker
What Is And What Should Never Be
The Rain Song
Hurdy Gurdy Solo
When The Levee Breaks
Gallows Pole
Tea For One
The Song Remains The Same
Babe, I'm Gonna Leave You
Whole Lotta Love
-Down By The Seaside
-Break On Through
-Dazed And Confused
Yallah
Four Sticks
In The Evening
Kashimir

Black Dog (Custard Pie Intro)
Rock And Roll
---
COMMENT
3rd night of Tokyo 6-days.
It is well known as "Rehersal Night" in Japan Tour.
Because they tested some new materials and missed many times in this night.
Starting rare opening number Celebration Day. (since Dublin 2nd Night 7/20/95)
It was not so bad before The Rain Song. Jimmy stopped in intro, and replayed from the beginning!! Strange arrengement. Jimmy played 1st chorus as instrumental, and Robert joined from 2nd chorus. Picking was slight unstable.
In Brand-New number Tea For One, Jimmy missed intro and the band was stopped!!
Robert apologized as "This is the reheasal for, ....for the bootleg!!".
They started again, but guitar solo did not harmonized to orchestra.
The most curious event was in Yallah. Played once, and interrupted soon.
But they did not replay and went to Four Sticks!!
Yes, they failed to play many times.
But, due to the generous audiences in this day, Jimmy/Robert could continue to play new songs and imploved playing day by day.
In the meaning, it was very very important night in Japan Tour.
---
You can get sample sound from this tape(.WAV)

Plant's MC as rehersal in Tea For One (200KB)
---
Back Home