WORKING QUADS
the International Copnference of Rehabilitation International & RNN
in Hong Kong in August 1998
ASIAN AND PACIFIC DECADE OF DISBILED PERSONS 1993-2002
---
"WORKING QUADS" homepage
---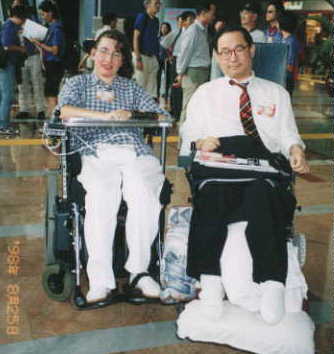 with Ms. Natasha Edgar
at the International Copnference of RI & RNN
in Hong Kong in August 1998
Hong Kong Experiences

Dear Sirs related with WORKING QUADS

August 30, 1998

Kazuo Seike,
president;
the Research Association on Work of
the Persons with severe disabilities
tbe Editorial Office of "WORKING QUADS"
produces and presents "WORKING QUADS" homepage

Ohtemon Chuoh-ku Fukuoka-shi 810, Japan
092-735- TEL
092-735- FAX
Kazuo_Seike@msn.com
seike@ma4.justnet.ne.jp
http://www4.justnet.ne.jp/~seike/


Dear Persons related with WORKING QUADS


I have came back home from Hong Kong.


I attended f98 Hong Kong Conference, which was held from August 23rd to
28th, and got back home by Casey Pacific.


Let me tell you the brief impressions I got there.


I found the new airport of Hong Kong spacious at arrival, though it took a
long time before I finally came to sit on my electric wheelchair
It took 40 to 60 minutes from the airport to the Convention Center via the
undersea tunnel.


I didnft see any taxi with lift.
I got on Rehab Bus.


It was hot indeed outside. The department stores were open till 10 ofclock
because people worked till late at night.
I found the foods delicious.


It was crowded at the exhibition hall for the conference


Hong Kong newspapers reported it on a large scale.


Before the departure I thought it would be nice to make friends with quads
who needed attendant services and wheelchair users overseas.


I wanted to see how the disabled persons in Hong Kong lived and hoped to
make friends with people like Wayne Wiri W. Terangi (C4 quad using
chin-controlled electric wheelchair), whom I met in New Zealand.


There were many quads in Hong Kong.
C4 quad riding chin-controlled Suzuki electric wheelchair
C5 quads and C6 quads using electric wheelchairs of different countries
Quads who survived for 18, 20, more than 30 years and were healthy at the
same time


I was able to speak English, though I found it inconvenient for me not to be
able to speak Chinese.

Through English I could communicate with people of such different
nationalities as the United States, Canada, South Africa, New Zealand,
Singapore, Malaysia, Philippine, Taiwan, Nepal and so on and so forth.
Japanese people with severe disabilities went there from Tokyo, Nagoya,
Osaka and Hukuoka.

I met Mr. Norihiro Sueta, quad and writer of WORKING QUADS, and ate with him
at a Chinese restaurant in the Empire Hotel.

There were a lot of Canadian electric wheelchair riders such as quads and
polios.

gWORKING QUADSh‡'10 got popular among them. C6-5 quad girl wanted one and
I promised to send one to her.

I talked about the Public Attendant Insurance, which is going to take effect
two years later in Japan, and one of them asked me for the English version
of its data.

I reconfirmed that it was very important for persons with severe
disabilities to have public attendant services.

The conference will be held in Malaysia next year.

In 2000 Rehabilitation International Congress will be held in Brazil, once
in four years occasion.

In the reception dinner I was at the same table with a Brazilian lady on
electric wheelchair accompanied by her daughter.

This is a rough sketch of the conference. If you have any questions please
feel free to ask of me by E-mail or on the Bulletin Board of WORKING QUADS
homepage.




---
the International Copnference of
Rehabilitation International &
RNN in Hong Kong in August 1998
ASIAN AND PACIFIC DECADE OF DISBILED PERSONS 1993-2002