$BF|K\8l$O$3$A$i(J

What is KOTO ?
About KOTO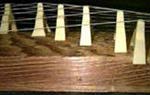 KOTO is a kind of zither. It has been used as one of the main chamber instruments of Japanese traditional music style.
The length of KOTO is about 180cm. A traditional KOTO has 13 strings, being arched tautly across 13 movable bridges along the length of the instrument (right picture). Players make base pitches by moving these13 bridges before playing.

History of KOTO
From 7th to 8th century, cultural embassies were sent to China to learn and aquire its political and cultual system. They also borrowed some music instruments, among which was cheng (KOTO). At first, it was used in court life and later it was played mainly by blind musicians (almost all Japanese pre-modern music were played by blind musicians or monks and court people).
In 17th centry (Edo era), YATSUHASHI-KENGYO (1614-1685), one of the blind KOTO masters, succeeded in moving KOTO to solo-instrument. Thus he has been known as the father of modern KOTO music. He made many compositions for KOTO music, and many of them are played now. One of his best known compotitions is

"Roku-dan (six variations)" (KOTO sound 165K).
In 20th century, Michio MIYAGI (1894-1956), who was also a blind KOTO player, introduced styles of western music into KOTO music. His world-famous composition named "Haru-no-umi(the spring sea)" was ordinaly composed for KOTO and SHAKUHACHI(a kind of flute made of bamboo), but it has also been played by KOTO and flute or violine.


"Isuzugawa (Isuzu-river)" composed by michio MIYAGI (KOTO sound 153K)
cf.Wade, Bonnie C. "Tegotomono",1976 Greenwood Press, Inc.
---

Back to KOTO home page
---
Mail: np5y-hruc@asahi-net.or.jp