Welcome To My Homepage!!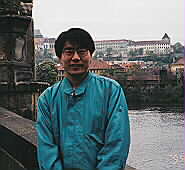 At Karel Bridge, Prague, Czech


E-mail To zm2m-okmt(NO-DM)@j.asahi-net.or.jp


Hello!
Let me introduce myself.

Name:Masayuki Okamoto

Birthday:Feb 22nd, 1965(Pisces)

My Hometown:Kabe Town, suburb of Hiroshima-City

Now I'm live in:Saitama, Suburb of Tokyo


Occupation:Software Marketing



Hobby
Listening To Hard Rock

Favorite Artists

Brian May (QUEEN)

These are presents from Brian May
during The Brian May Band Japan Tour, at Hiroshima 1993

Deep Purple Ritchie Blackmore
Styx Journey
Boston
Traveling

Please look at some pictures on my travels.
Watching Baseball Game

(Please enjoy the atmospheres of each home stadiums with some pictures and sounds.)

Favorite Teams




To the Macintosh and Unix users, perhaps you can not listen my sound files (wav) if you use plug-in soft in Navigators. Please load the sound files (wav) into the disk in your own machines (clicking "Save As"), and after download the files, please listen to them using your own sound player.
Regars