Introduction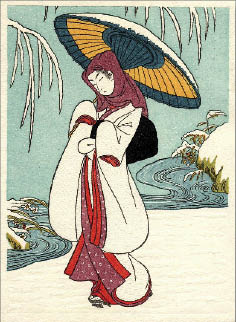 When it came time to prepare my new year greeting print this year, I did the same thing as I did last year, and selected a design that would give me good practice at some traditional carving! My own recent prints have not used many outlines, and as I really don't want to lose my hard-won ability to make ukiyo-e prints, I chose a design that would give me a good workout!
The main story in this issue of our newsletter is the continuation of the 'script' for the imaginary documentary on my work that we began in the previous issue. This time, we focus on a step-by-step view of how one of my prints is made.
We also have another in the occasional series of 'Visit' stories. This time we'll try something different – we'll drop in on a westerner living in Japan for many years and making prints using an old and antiquated technique. Eh? Have you ever heard of such a thing?!
We'll wrap up in the usual way, with Sadako's Corner. I hope you can find something of interest in this issue!