JAPANESE
---
Since born in the greater area of Syria-Palestine, Christianity spread rapidly to neighboring areas despite being oppressed violently by the Roman Empire that ruled the Middle East. It was by the Edict of Milan of 313 A.D. that the Empire approved it officially, and it was in 350 that Theodosius I set it as the state religion. But it was the Kingdom of Armenia in the north of the Middle East that embrace it in 301 A.D. in the first place, half a century previously than Rome.
____Chapter 1____VAGHARSHAPAT
____Chapter 2____NORTHERN ARMENIA
____Chapter 3____WESTERN ARMENIA
____Chapter 4____MIDDLE ARMENIA
____Chapter 5____SOUTHERN ARMENIA
____Chapter 6____NAGORNO KARABAGH
____Chapter 7____NEIGHBORING COUNTRIES (NEW)
____Chapter 8____ANI ( Medieval Capital ) (NEW)
__ __Apendix_____REFERENCE BOOKS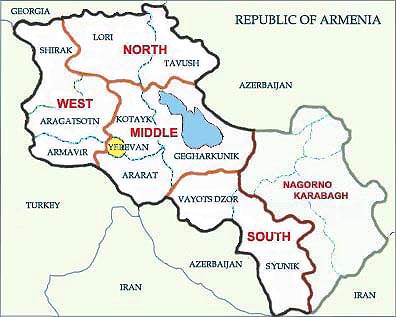 As this is a very complicated link-net, the links do not necessarily jump exactly,
under the current capability of the Internet Explorer.
On unsuccessful occasion, return to the index and re-push the same site name.
TAKEO KAMIYA, Architect
ARCHITECTURE OF ARMENIA
| | | | | |
| --- | --- | --- | --- | --- |
| LINK | Architecture of INDIA | | Architecture of ISLAM | |
---
© Takeo Kamiya , Link Free
E-mail to: kamiya@t.email.ne.jp