34-1. JOE'S BLUES (LaserLight 21094)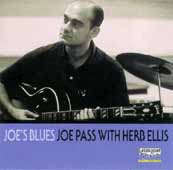 1.Alexander's Ragtime Band
2.Look For The Silver Lining
3.Joe's Blues
4.Georgia
5.When You're Smiling
6.The Shadow Of Your Smile
7.What Have they Done to my song
8.You Stepped Out Of A Dream
9.Sweet Georgia Brown
Joe Pass, Herb Ellis-(guitar); bass player and drummer are unknown.
The liner note said "Monty Budwig-(b), Colin Bailey-(d) but IT'S WRONG !!!.
Colin Bailey wrote to me,
"I talked to Adam Ross(*the producer of the CD) and he told me it was recorded at Radio Recorders in Hollywood in 1968. He said he could not remember who the Bass player and Drummer were so he put our names on there because he thought our names would help to sell it." So, please be sure, the bassist and the drummer are UNKNOWN.(Feb. 17, '03---I heard from Colin in Aug., '98. Sorry Colin for the delay of upload)
· Joe plays duo with Herb on 6 & 8.
· The CD was issued in July, 1998, originally recorded at Radio Recorders, Hollywood on 1968.
Album : Next : Back