135.AT AKRON UNIVERSITY (Pablo Live2308-249)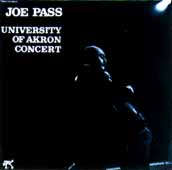 1.It's A Wonderful World
2.Body And Soul
3.Bridge Work
4.Tardé
5.Time In
6.Duke Ellington Medley;Isfahan~Prelude To A Kiss~Squeeze Me~Take The "A" Train~Sophisticated Lady~Lush Life~Satin Doll
7.Joy Spring
8.I'm Glad There Is You
Joe Pass-(guitar): Recorded live at Akron University in Akron, Ohio, Fall, 1985.
· Now available as CD(PACD-2308-249-2) & Cassette (2308-249-4)
· Polydor, former Japanese distributor of Pablo label, had once issued as CD. And it has bonus tracks.
9.On Green Dolphin Street
10.Pent Up House
11.Medley: Misty~Stella By Starlight~Lady Bird
(Japanese liner note mentioned only "Misty~Stella By Starlight", but the medley ended up with Lady Bird) Thanks Masaaki !!
· Polydor sold the CD during Feb.~Dec.,'87 only in Japan.
Album : Next : Back