Guests Book of Joe's Grave#2 from May 23rd, 2000 to May 22nd, 2001.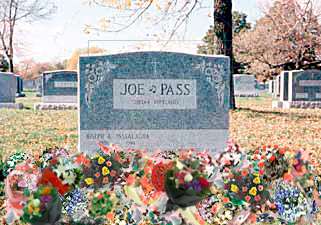 ---
1.Chris(May 23): His music is very good and my guitar teacher says I should listen to his music. I listened to his "Virtuoso-Here's that Rainy Day". I now know why my Teacher likes his music, and i am starting to, too. This site has also told me a little about his life, and I hope this site is kept up.
                                   Thanks
---
2.David Braun(May 24): Joe was a friend of mine and a teacher for 15 years. He improved my playing 100%. I will forever be grateful.
---
3.John Fialkowski(May 25): I'm currently working on an arrangement of Joe Pass' "Blues in 'G'". Complicated stuff. It makes me realize just how fantastic Joe actually was.
---
4.Jason Lindsay Bowles(May 27):
This is a good site. I am a27 yr. old Canadian guitarist and I would like to make initial contacts with people who played with Joe and were inspired by his music. I am setting a two-year goal to be in a position to take lessons from prominent players in the U.S./Canada/Europe and will likely be in Japan teaching English/Music theory until that time. I'm currently studying jazz history and english lit. at the University of Victoria in B.C. - (Writing a paper on Django and Joe today in fact). Excellent sunshine on the West-coast today...

     Joe's music is an inspiration...
       Hope you are well,

                                            -J.
---
5.Drew Engman(May 27): When I was a teenager taking guitar lessons and playing in my high school jazz band in the late 70's, Joe was my guitar idol. I never learned to play like him, but he inspired me to find my voice and express myself. I think He was the best improviser I ever heard, and so do a lot of other fans. God Bless you, Joe!

Your friend,

Drew Engman
---
6.Raymond Currie(May 29): He was one of my biggest influences. That cat could wail. Joe could really cook... and still does.
---
7.rosalind owens(May 30): I would like to thank my professor for introducing me to Joe Pass. I will remember him from here on out.
---
8.Steve Thompson(May 30): Joe Pass has and will always be my inspiration for playing jazz guitar.
---
9.Vadim Shelehov(Jun. 1)
---
10.Michael Giacchetti(Jun. 2): Thanks to Joe, for all the inspiration and enjoyment he has given me through his guitar playing. I saw Joe perform in Chicago, in a small Jazz club on Lake Shore Drive named Rick's Cafe American. What a high mark he has left for the rest of us to aim to. Well done Joe!
---
11.Larry Burdette(Jun. 5):
You are missed.
---
12.Dominic Mac(Jun. 6):
Joe "is" a huge inspiration.
---
13.Hirotomo Shibata(Jun. 6): Guitar Virtuoso is JOE PASS.
---
14.Alexander Ng(Jun. 6): Here lies a man of great talent, a true guitar virtuso...one whom I would've called Si Fu (chinese for master) if I had ever met him. May his works be remembered always
---
15.Jerr Sims(Jun. 8): From the first time I saw Joe in Boston, I was hooked on his playing. I spent many years studying his playing and from one D'Aquisto owner to another, I will always love Joe's music.
---
16.J Wert(Jun. 10): Joe is by far my favorite guitarist and one of my biggest inspirations as a jazz guitar player.
---
17.Francisco Bruxo(Jun. 12): Thanks Joe for maybe the best day of my life when I was walking in Frankfurt Musick Fair and I saw you playing in Gibson's Stand ! I was so happy to have you just in front of me ! I'll never forget that day ! THANK YOU MR.VIRTUOSO !
GOD BLESS YOU !
---
18.Bruce Dies(Jun. 16): Rest in Peace Joe..
---
19.michael e finger(Jun. 17): you gave enough for 6 life-times. i only wish you could have one more.
---
20.John Tyson(Jun. 23): Hi Joe you were a master. We miss you. Hope you're making heaven swing!
---
21.Dmitry Korolikhin(Jun. 28): I'd like to say his IS the best, my favorite one.
Joe's music makes me feel like livin'. Thank you Joe, you're one of the best parts of my life.
Dmitry, Russia.
---
22.Ken Brown(Jul. 6): I love ya Joe. You will always be alive to me through your music, and the fond memories of the precious time you shared with me. You were not only a great jazz guitarist, but a great human being.
---
23.Christian Pedoty(Jul. 11): Joe was a true professioal jazz guitarist who will live forever through his recordings and who will continuue to be a great influence to upcoming jazz artists.
---
24.Jonas Englund(Jul. 13): It was when I heard Joe I begun listening to jazzmusic.
---
25.Tom Lopez(Jul. 14): My wife Sheri & me loved Joe & saw him here in Southern California frequently.
Last place we saw Joe & talked to him & so enjoyed him was at a place called Elarios at the Summer House Inn in La Joll. Unforgetable.
---
26.WALTER BOLARTE(Jul. 17): FOR MY FAVORITE MUSIC THANKS JOE PASS THE BEETER
---
27.Murray Dabby(Jul. 18): You are always in my heart and soul.
---
28.M·Rio(Jul. 18): Joe Pass: a man that will always exist in the magic of his music... Thank You, Joe.
---
29.Alain Hardy(Jul. 24): I wish i could have had the chance to see him play live! He was really T he MASTER in jazz guitar! God bless you JOE!
---
30.alex weiss(Jul. 29): I am a professional musician from Israel. Joe had a big following and everybody loved his music.
His memory is eternal. Rest in peace dear Joe.
---
31.Wayne L. Wright(Aug. 7): Joe Pass was one of the kindest people I have ever met. I had the great opportunity to sit in with Joe at Fat Tuesday's in NYC during the '80's. I was then accompanying Les Paul on Monday nites. I will never forget Joe Pass. Thank you Joe...
---
32.Akiko Konomi(Aug. 10): Always I love You, JOE !!
---
33.Dave Banting(Aug. 13): Joe had a special magic that came through in his wondeful music. Just to hear him is a special privilege.
---
34.leebee(Aug. 18):
Joe, you made the world more beautiful to be in. Peace.
---
35.Phil Scalzo(Aug. 26): Joe Pass has forever defined playing jazz on the guitar. As he said "Jazz is never playing the same thing once!!"
Thank you for the inspiration.
---
36.Messina Vincenzo(Aug. 26): He was a great guitarist and he will be for ever.
---
37.John Cotton(Aug. 29): Rave on.
---
38.JP Karcz(Sep. 1): Dear Joe,
There are so many rich voicings in the tasteful music you played for us that it will take my entire life to discover them fully. Rest in peace. Love from all your friends in Montreal-Quebec
---
39.Steven Tjernagel(Sep. 7):
I regret not seeking Joe's music out and studying it much earlier. Some of the answers to questions like "What is that?" are found in his work.
---
40.Tom Margarites(Sep. 9):
I had the pleasure of seeing Joe Pass perform in the late 70's at a local Jr. college in the cafeteria. There are but a few musical artist who really inspire me to newer hieghts of musical creativity: The Beatles, Bach, Django Rienhart and Joe Pass!!! In the world of Jazz guitar,he can only be imitated,never surpassed as a true genius!
---
41.charles r.(Sep. 29): for the man the virtuoso the legend the greatest there may ever be long live mr. pass
---
42.Thierry TOBAILEM(Oct. 2): Thousands of hours dreaming thanks to you Joe.

All i can say is thank you...thank you so much for that.

Thierry
---
43.Lou Mecca(Oct. 3): Joe, I miss you dear friend, we were together the week before you died and I think of you with fond memories. Your friend, Lou
---
44.Mario Villarreal(Oct. 4)
---
45.Carlos Villarreal(Oct. 5): Thanks, for the magic of your guitar... Which has deeply influenced me in my musical career. You'll never be forgotten.
---
46.Oscar Peterson(Oct. 7): Joe, I shall never forget those great musical moments that we shared together in my group.I can only hope to relive them with you in the next life. May God bless and keep you.Love,Oscar.
---
47.Bob Roetker(Oct. 9): Joe, I enjoyed the limited amount of time we spent together. I have always been and will always be a huge fan. See you on the flip side. Thanks for everything.
---
48.Loop(Oct. 10): I'm Chinese. Joe is the first jazz guitarist that I know from my guitar teacher in Russia. You opened my heart that I started to love jazz music. Even we started too late, I think I can follow your steps.
---
49.Jeff McGlone(Oct. 10): On May 24, 1994 I walked into a music store in Phoenix and the guy behind the counter said, "Joe Pass died last night." I froze in my tracks. Joe, you're the reason I play jazz guitar today and why I teach guitar at the college level. You're mastery of chord-melody was cool and great! Thanks for teaching me all those cool chords. I love you forever!!!! Rest in Peace!!
---
50.Scott Mashburn(Oct. 22): The music of Joe Pass has brought me immeasurable joy and excitement. I saw him at the Venetian Room in Dallas, Texas in 1985. When we walked into the lobby to show our tickets Mr. Pass himself was standing there taking tickets. We said we here to Joe Pass and he tore our tickets and casually replied "Joe Pass will be out in a few minutes". I did not recognize him as I had only heard him on the radio. It was not until he came on stage that we realized that Joe Pass who had taken our tickets. He performed magnificiently. I will never forget that night.
---
51.Rafael Mayoral(Oct. 22): Joe Pass,

A guitar virtuoso for ever.
---
52.Larry Real(Oct.23): Joseph was, "The Man." My first intro to his music was his christmas tape. I like all the novelty jingles he slips in there. What a spirit! With holidays just around the corner---he's still with us. Merry x-mass Mr. Pass.
---
53.Michał Starkiewicz(Oct. 25): Jeden z największych i niedoścignionych. Pok Jego Duszy.

---
54.Steven Krohn(Oct.30):
Met you twice, listened to you a zillion times, will study you forever! Thanks, Joe
---
55.Paul Vogt(Nov. 9)
---
56.Ron Vitarelli(Nov. 14):
Joe Pass will endure as a giant of American jazz guitar. I did not really appreciate his music while he lived; after his death I heard his recordings on a broad scale and discovered his genius. May he rest in peace.
---
57.alexandru man(Nov. 18)
---
58.jerry kreten(Nov. 20):
thank you for the wonderful memorial you have created for the finest guitarest of our time.
---
59.Jesse R. Lee(Nov. 21):
Joe, the first time I had ever heard your recording of Cole Porter's "Night And Day", I knew instinctively that it was you; before I had ever even heard your playing. To this day, and always, I hear your playing in all the colors of my life. Thank you so very much Joe. You shall remain forever said--and no one has ever said it better!!!
---
60.Laszlo Solya(Nov. 23):
Egy perc nema tiszteletadas e feledhetetlen mester emlekere.
Kz
---
61.Janusz Konefal(Nov. 27): I love His style of playng guitar.
Janusz Konefal from Poland
---
62.Bryan White(Nov. 31)
---
63.Steve Laming(Dec. 4): Here's to one big influence in my guitar playing life.
---
64.Joel Shapira(Dec. 5): I was fortunate enough to meet and have a lesson with Joe in LA in 1984. As everyone knows he was a brilliant guitarist and the nicest guy you could hope to meet. RIP Joe, we miss you.
---
65.c-los(Dec. 6): i would like you to put a bio here .
---
66.Tony Calabro(Dec. 7): Joe, every time I hear a recording of yours and reflect on the times we spent together I pinch myself to see if it's really me. I am truly blessed to have had the opportunity to have studied with you. Your playing continually inspires me. Thank you for all you did for me, I will NEVER FORGET YOU. Praise God that I had the privilege to see and hear you play and meet you several times. God bless you for ever.
Tony Calabro.
---
67.Roger Bolt: (Dec.8): Words can not express my gratitude for the wonderfull inspiration and impact of Joe's music and "keep it simple" musical philosophy. I have developed a deep admiration and devotion for his work and a profound recognition of his warm ability to touch the lives of others during and after his time with us on the planet. I look forward to taking master lessons with him after I get of this earthly bus. Peace be with ya Joe..and may God Bless.
Roger Bolt
singer & Composer
12/08/00
---
68.Carlos Schvartzman(Dec. 11): Joe was one of my first influences, and certainlyone of the best jazz improvisers of all time. It's a real loss to the jazz world having lost him.
---
69.ron werkheiser(Dec. 12): I am sorry I never heard you play live,but I am wearing out my old records(!!)listening to every note you play and going through your books time & time again to try to play note for note what you did,a greater inspration to study the guitar we may never see!!! Miss you---
---
70.willie holt jr(Dec. 16): I'm just a fan who didn't know the man Ijust knew the music,but that was enuogh and I'll always have that so to Mr.Joe Pass I say THANK YOU . Signed,Willie Holt Jr.
---
71.Steve Barta (Hungary)(Dec. 18): Joe, your music is like falling in love at the first sight. For the first time I listened to your music today, I already regret that it is too late to listen to that live. Thank you for what you've given us.
---
72.francois lavigne(Dec. 26): the first time i here joe pass,wow....
and 20 years later,i here lenny breau .

good night joe. y`oure the best in my heart.
---
73.michael hoyles(Jan. 14)
---
74.Paul Young(Jan. 15): Joe - you remain the standard with which I judge those who claim to be 'jazz guitarists'. You were a true master-genius of the art. Your music continues to be my inspiration.
---
75.Mike Childs(Jan. 16): Joe, you were wonderful. I am very thankful that I got to see you in person before you left us. Thanks for everything.
---
76.Marko Karesluoto(Jan. 21):
Thanks, Joe!
You were the truly innovator of my jazz guitar playing!
---
77.pete cavano(Jan. 21): Your music and spirit will live forever!
---
78.anish joseph(Jan. 23): the unmanifest manifests itself in many forms and ways,one was JOE PASS.
no guitarist has touched me more deeply.
NEVER BORN NEVER DIED ,JUST VISITED MOTHER EARTH FOR A SHORT TIME AND WHAT A MARVELLOUS TIME FROM ALL YOUR FANS IN CHENNAI,SOUTH INDIA
THANK YOU AND MAY YOU BECOME ONE WITH THE ABSOLUTE.
---
79.Martínez(Jan. 25): Gracias por haber existido. Nunca te olvidaremos.
---
80.Patrick Alan Gibson(Jan. 25): You have given so much to so many. Thank you, Mr. Pass. May God keep you in plenty of guitars and strings.
Respectfully,
-PAG
---
81.Paul Bernhardt(Jan. 27): I had the great fortune to attend a performance Joe Pass gave at the Artists' Quarter, a small room in Minneapolis, just a few years before his death. I believe it is one of the greatest concerts I have ever witnessed. He was so at ease with himself, his instrument, and his audience that he could allow a great breadth of human emotion to come through in his music. He was so full of life and soul that it's impossible to imagine anyone remaining unmoved in his presence that night. I am grateful for him and his music.

paul bernhardt
pdb@pro-ns.net
---
82.george ong(Jan. 29): after Jimi Hendrix, i couldn't find another guitarist that had more feel and inspiration until i stumbled upon Joe Pass. I have been searching for any Joe Pass Website for months, and finally found it. Thanks for the good job!!
---
83.lantaug(Jan. 31)
---
84.john spinelli(Feb. 1): never met you, but through your videos it was clear you were a good man and a great guitarist.
---
85.P.RANA(Feb. 2): YOUR INSPIRATION IS A INSPIRATION AND ALWAYS WILL BE FOR A ASPIRING ARTIST, THATS ME. MAY YOUR SOUL REST IN PEACE AS I BELIEVE THAT YOU ARE THERE IN THE ALMIGHTYS HANDS RESTING IN PEACE. THANKS
---
86.David Fallis(Feb. 7): Joe has helped me advance my playing skill by at least 10-fold. I am grateful for his music and inspiration. There aren't enough sites on the net devoted to this incredible guitarist. Thank-you very much for the site.
---
87.Alan Wilson(Feb. 9): As a teen in the early to late 70's I saw Joe Pass many times. I remember shows at The Village Gate especially.I was weaned on rock n' roll but nevertheless Joe Pass was the best guitarist I ever heard.
---
88.Hank Landgraf(Feb 10): Joe Pass is my guitar hero. The best of my playing I owe to Joe. Thanks Joe, God Bless
---
89.giovanni difeterici(Feb. 20): i was recently introduced to joe pass' music and it is mindblowing. his sound is pure and clean with just the right amount of human fault in it to make me want to cry. i love his music and though i never knew him i certainly know that his passing was a great loss to the music community. just wanted to show my appreciation. thanx.
---
90.Frans Liekens(Feb. 23): Thanks for your inspiration throughout the years, may you rest in peace
---
91.Mika Palmer(Feb. 23): I just listened to a duet you did with ella, I almost forgot how much of a master guitarist you were. I hope your doing a gig on the other side , it would be a shame if at death that was it. Bright moments to you
---
92.ED JACKSON(Feb. 28): WILL ALWAYS REMEMBER JOE AND HIS GREAT GENIUS OF THE GUITAR!
---
93.Mark Manetta(Feb. 28): Thanks Joe, I'll never forget what you did for me.
I know God was waiting for you in heaven. Don't show him all the chords untill I get there!
P.S. to Joe's Children, Your father loved you very much. To cousin Frank and Bernie, You both know what he meant to me. please call me in Rochester.
Great memories Joe.
Love, The Manetta Family

---
94.Claudy Pairoux(Mar. 2): I arrive at a jazz sound with joe pass.. GREAT
Thank you for your nice site.
Claudy Pairoux - from LIEGE-BELGIUM-EUROPE.
---
95.Terry Costello(Mar. 4): What a player. I saw Joe when he came out to Australia in 1991. He did a workshop at the Bruce Clark Guitar school. A fingerstyle guitarist unequalled in jazz. He also had a great sense of humour and incredible knowledge of Jazz music and its history.

His solo stuff is sensational. Things that are almost impossible to play by others are done effortlessly by him.

RIP JOE
---
96.Jos L.Knaepen(Mar. 6):
Absolutely gorgeous website and thank you for keeping the spirit of the greatest jazz guitarist alive !
Best regards.
Jos L.Knaepen
Belgium, EU

---
97.Richard Alvey(Mar. 8): Hello Tabo,I am in the UK,thank you for your excellent site on Joe. He has been a great inspiration to me and I am happy that you take the time and trouble to do all of this for the rest of us. Thank you.
---
98.Andy Paraskevas(Mar. 12): Dear Joe, thankyou for your genuiness, warmth, and humanity.
---
99.Michael Wiegert(Mar. 14): What a wonderful tribute to one of the greatest jazz artists ever to grace our planet. I applaud your efforts to memorialize this legendary guitarist. I have listened to Joe Pass for over 30 years and no matter how many times I listen to the same song, over and over, I am continually amazed by it's virtuosity. A true thing of beauty is one that transcends all commercial interests.
---
100.Peter V. Ritter(Mar. 14):
Most brilliant jazz guitarist there ever was. Only wish I could have "hung out" with him! Had the pleasure of studying under his good friend Bill Thrasher who died in 1979.
PVR
                             PVR
---
101.Mike McIntosh(Mar. 15): Thank you for creating such a great tribute to a wonderful musician and person.
---
102.Paul Shupack(Mar. 16): I met Joe during the early 1980's at his solo gig at Blues Alley in D.C. and somehow convinced him to give me a lesson. I had idolized joe for many years before that and he was a major inspiration while I went through an intense period of practicing 6-8 hours per day. What was supposed to be a one hour lesson turned into 4 hours of playing, intense learning and just hanging out talking shit and helping him fix his TV so he could watch the football game. It was a majical day and the things Joe taught me about approaches to improvising and how to tear apart chordal harmonies changed my playing forever. Joe was a very kind man and very humorous. I will never forget him.
---
103.Alain Bergmans(Mar. 18): I met Joe Pass in Montreal towards the end of the 1970's and attended several of his concerts given in Quebec, Canada. I own many of his records. For me, he ranks among the greatest jazz musicians of all time. I am a guitar player myself. I own much to Joe's influence. What a player! Thank you Joe for such great music and inspiration. I will keep on listening and always remember when I met you at the Rising Sun Jazz Club. RIP.
---
104.Peter Dear(Mar. 21): An amazing inspiration to all students of the jazz guitar and such a nice man.
---
105.Christian Cederberg(Mar. 29):
I can promise everybody who loved his playing,
that he is playing some really hot jazzguitar
for God right now.
---
106.Brian K. Barnes(Apr. 6):
Thanks for the great music.
---
107.Faton Macula(Apr. 9): why i became a guitar player? only because of JOE PASS he was my everything "you allways will the first " peace from Kosovo
---
108.Mike Perry(Apr. 10): I met Joe in 1974. He was a great guy. Joe's playing meant more to me than any other guitarist except maybe Django.
---
109.Ken Greenleaf(Apr. 13): Thanks for your site for Joe Pass.
---
110.Kevin&Lori Lynch (passele)(Apr. 19)
---
111.Ryan Manzi(Apr. 19):
You were the best!
---
112.mustafa altan(Apr. 23): joe, you'll always be living as a great guitar player in our minds. It was so bad for me to see your grave here. So early to die ?
---
113.Marc Siegel(Apr. 23): Joe Pass has been a great inspiration for me. I've studied classical guitar for ten years but for the last two it's been only jazz, thanks to Joe Pass. I've got all his books and all his videos, I'm only sorry I didn't have a chance to meet him and thank him before he passed.
---
114.Jerry Guttman(Apr. 27): Joe Pass was by far the best jazz guitarist of all time. He will always be remembered for his style and grace
---
115.Volkan Durukan(Apr. 28): Hi joe,
i wish we met before doing my history of jazz homework.i introduce with you by this course...
now i am your new fun...i know i will come there...good night...

                           Volkan Durukan
                             TURKEY
---
116.Rob McMullan(Apr. 29): Hearing "Virtuoso" in 1975 changed my guitar
playing path to this day. Thanks Joe.
---
117.Gary Overton(May 5): Thanks for your love of that special Mistress we call a guitar, Joe.
---
118.GEORGE LIPINSKI(May 7): Thank you for the music
---
119.Neil L. Forslund(May 12):
Maestro! Thank you for all the years of beautiful music. I learned not to live my life in a minor key. Grazie.
---
here is a part of Joe Pass Memorial Hall(J.P.M.H.)
If you happened to visit here by searchig something --->
Go to Top Page of J.P.M.H.