What's New
go to "Information" go to "Links"



---
New
#33 I add 1 Album titled "A Time For Love" by Oscar Peterson quartet.(released Nov, '21)
This is the last recording of Joe and Oscar, you can see the detail. (Feb, 2nd, '22)

#32 I update the running order of the discography. I put "Chet Baker Sings" on 1962 recordings, but it was my mistake, I fixed it on 1964 recordings. And I put #11.Tell It Like It Tis . . . Richard "Groove" Holmes" on 1963 recordings, but it must be in 1962 recordings, so I fixed it.
I found the mistakes of Mosaic CD set, so I pointed out at 13.CATCH ME! and 19-1.THE COMPLETE PACIFIC JAZZ JOE PASS QUARTET SESSIONS /Tabo (Mar. 23, 2021)

#31 Mr. Tanaka made me know the CD titled "Live At The Lighthouse 1964 (J.C. Heard-Bill Perkins Quintet Featuring Joe Pass)" was just issued from Fresh Sound Records. (see here)
The contents are completly new for us. And it conclueds the VERY FIRST UNACCOMPANIED solo of Joe ("Sometime Ago"). We can say it "Historical Recording"
I will upload this on my discography. (Feb. 10, '19)
I uploaded it as 20-2.Live at the Lighthouse '64 on the discography. (Feb. 12, '19)

#30 Ian Macgregor made me know Joe's double CD has just come out (see here)
The contents are compilation from Joe's past recordings. (Include NO new item) (Mar. 4,2017)

#29 I added Ella Fitzgerald albume titled "Live In Cologne 1974" on my discography (Jun. 16, 2015)

#28. Anna Passalaqua (Joe's mother) died on April 23, 2015. She was 103 years old. I hope Anna could meet with her children and husband in the heaven. Rest in peace. (May, 6, 2015)
Obituary

#27. Japanese King Records will issue "For Django Reunion 1991" on July 16th, 2014. The contents are from live recording at Blue Note Tokyo on Dec. 6th, 1991. It will be the first time issue.
I think King Records give up to issue the album, because they didn't make any effort to clear copyrights. (May, 6, 2015)

#26. Masaaki Tanaka made me know REALLY BIG NEWS.
Japanese King Records will issue "For Django Reunion 1991" on July 16th, 2014. The contents are from live recording at Blue Note Tokyo on Dec. 6th, 1991. It will be the first time issue.

#25. Concord Music Group issued the remastered CDs, 69.Dizzy Gillespie's Big 4, 74.Zoot Sims And The Gershwin Brothers & 100."Skol" In Scandinavia. They have some previously unreleased tracks. I wrote the contents on each album section. (Oct. 24, 2013)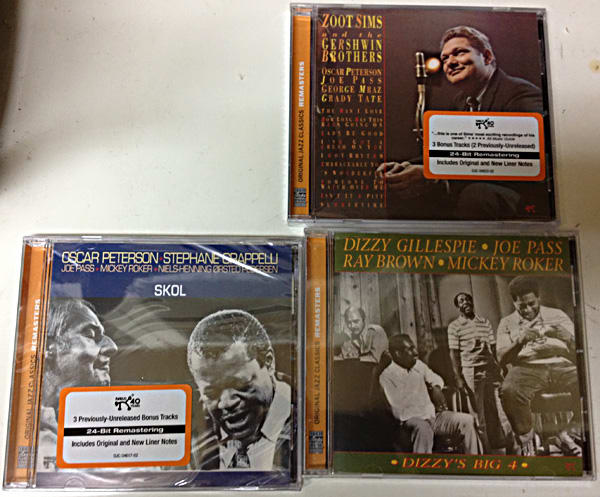 #24. I just got Frank Potenza's new album "FOR JOE" today. The contents are all dedicated to Joe Pass, perfect tribute album. Joe's old cats suported Frank well, and the guitar sound of Frank are really warm, smooth and gentle sounds !! He didn't imitate Joe's phrase, but undertood Joe's way of cooking ! I recomend you to BUY IT !! (Sep. 13, 2013)



#23. Masaaki Tanaka made me know 3 albums which have previously unreleased tures of Joe.
You can check the detail at Pablo Records' 40th Celebrated with Duke Ellington, Oscar Peterson, Dizzy Gillespie, More
"Dizzy Gillespie Big 4", "Zoot Sims And The Gershwin Brothers" and Stephan Grappelli's "Skol" has 2-3 previously unreleased tures each as "bonus" tracks.
Don't miss them if you are a Joe's fan !! (Aug. 30, 2013)

#22. Frank Potenza's new album "For Joe" will be issued on Sept. You can reserve it at (maybe) domestic record stores. Frnak Potenza website(Aug. 7, 2013)

#21. Dailey Pike's video "A Not So Average Joe" was finised. You can enjoy it at http://JoePass.info (Jul. 26, 2013)

#20. I uploaded 1 item as "52-1.TV Omnibus: Volume One (1962-1976)" at "Albums" section. You can't identify Joe's guitar sound, but can say it is the almost Joe's last studio session work.(Dec. 28, 2012)

#19. If you have a Facebook account, you can view the pilot video of "For Joe" recording session "A Not So Average Joe" at http://vimeo.com/55320141(Dec. 25, 2012)


#18. Frank Potenza's comming album, "For Joe", will be released next March.
The contents are, Joe's "A Foxy Chick And A Cool Cat", "For Django"(Bossa Nova), "Voce", "But Beautiful" and more. Please 'lengthen your neck' till it's release ! (In Japanese, 'lengthen your neck' means "wait impatiently") (Nov. 24, '12)


#17. The unknown bassist & drummer of #55 of the discography turned out to be Dean Reilly & Benny Barth by the information from Dick Conte. Thanks Dick !! (Nov. 6, 2012)

#16. Dailey Pike is searching for a Future Guitar Legend. (like J.P.)
A person could win a Pisano signature guitar and a trip to LA to play with John on Guitar Night. (check below site ! / Oct. 5,12)
http://FutureGuitarLegend.com


#15. Frank Potenza is just recording with John Pisano, Jim Hughart and Colin Bailey. . . yes ! the rest of Joe Pass Quartet, really great cats !!
The title of the album will be "For Joe". The release date is not fixed now.
I think Frank is the only one who recorded with the rest of J.P.Q.(Oct. 1, '12)


#14. I added one record on the discography. Please check at "22'.If You Want This Love . . . Sonny Knight (Aura 3001)" (Sep. 8)

#13. Francesco Biviano made me know that Mr. Piero Bonarrigo, the mayor of Gualtieri Sicaminô, was presented at the celebration of the hundredth birthday of the mother of Joe Pass. (Anna reached the age of 100 on Mar. 13th)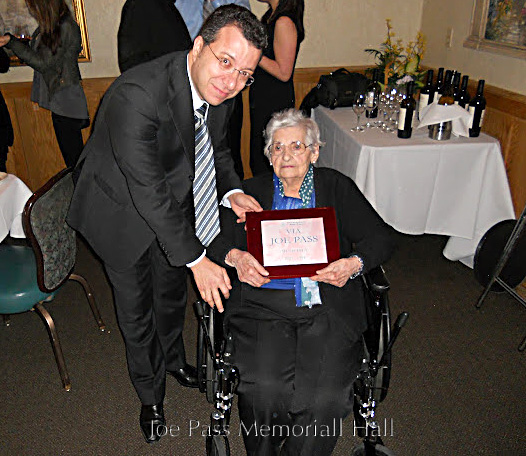 Thanks Franco to share this photo ! And I send my best love to Anna ! (Mar. 27, 2012)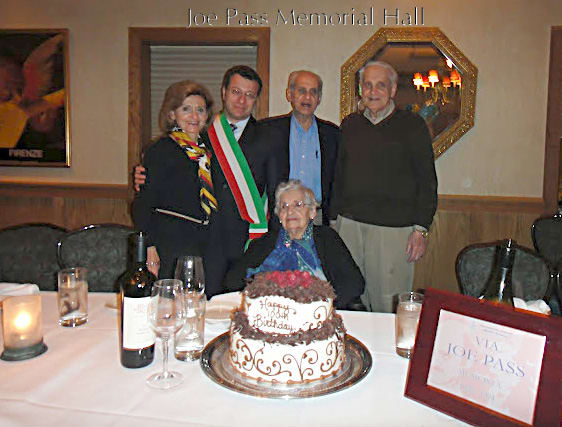 Franco sent me one more photo, Mr. Piero Bonarrigo with Joe's family. (Mar. 29, 2012)

---
#12. I upload the info of "Ella Fitzgerald Best Of The BBC Vaults"(CD+DVD) at "67.Ella In London" on discography.(Thanks a lot, Masaaki Tanaka!!) (Mar. 24, 2012)
---
#11. I upload Percy Faith's "Clair" as "55'''.Clair" on Joe's discography.(Thanks a lot, Jan !!) And I fixed the recording date of "Folk 'N Flute" & "12 STRING GUITAR" (Mar. 23, 2012)
---
#10. John Delgatto (Founder and Owner of Siera Records) made me know, "Charisma" is the exact same song that appeared on the "Folk N Flute" album titled "Charis" I will correct the discography later. (Feb. 21, 2012)
---
#9. I noticed that I miss the one record which Joe took part in, Percy Faith "Clair". Now I resarch about the LP and will upload it on the discography.(Feb. 15, 2012)
---
#8. I add the rink to King Errisson, great percussionist and recently gave me the great info. (Feb. 13, 2012)
---
#7. I accidently found the CD in which Joe Pass plays 1 track. The CD title is "Sixties Transition: Rare L.A. Session Tapes" issued from Siera Records
Joe Plays lead guitar with Bud Shank & David Crosby !! The tune style is not Jazz but Folk music. I uploaded the details as 27-1 (Feb.10, 2012)
---
#6.Jan Horych made me know an album, which I don't list in my discography, "Adam Ross Reeds - Grazin In The Grass". I am now ordering it and will check it. Jan said, "the last track sounds definitely like Joe" and I agree with him.(Dec. 19, 2011)
I got the record today, I upload it as 42'''34''."Grazin' In The Grass". . . . The Adam Ross Reeds on Album section. Thanks a lot Jan !!! The record is my Christmas surprise ! (Dec. 25, 2011/I changed the serial # as 34'' on Feb. 10, 2012)
---
#5.Franco upload photos of the concert at Piazza Duomo.
Click here!
(Aug. 26, 2011)
· Franco uploaded some photos of the ceremony and photos of after hours of the concert, in Capo d'Orlando, next to Messina. Thanks again ! (Aug. 31,2011)
---
#4.Francesco Biviano made me know about "Gualtieri Jazz - La Terra di Joe Pass". Gualtieri Sicaminô (Messina, Sicily) is the birth place of Mariano Passalaqua, Joe's father. "On comming Aug. 24th, the municipal administration will dedicate a day to Joe Pass. A street will be dedicated to him, a conference will be held, two Italian jazz band and the guitarist Brian Nova will perform in the evening. Ellen Lüders, Joe's late wife, Susan Passalaqua, Joe's niece, and the pianist Charles Gigliotti, Joe's cousin, will be there."(from Franco's e-mail)
If you have a chance to visit there on Aug. 24th, the concert will be take place at "Piazza Duomo" from 21:30. (Thanks !! Franco)
11:00 Intitolazione gVia Joe Passhat Rione Carmine, gia` via III Palazzo
12:00 Convegno gNel Segno di Joe Passh at Palazzo Comunale, Aula Polifunzionale
21:00 Rassegna Musicale at Piazza Duomo
Pino Delfino Jazz Band, Brian Nova, Pietro Condorelli Band

---
#3.Masaaki Tanaka made me know "Easy Living" was just issued as OJC series, and has 2 bonus tracks ! ("Don't Be That Way" & "Love For Sale" alternate takes) (Jun.15, 2011)
---
#2.Masaaki Tanaka made me know 3CD box titled "Shaft Anthology His Big Score And More!" was issued from Film Score Monthly in 2008. I bought it and found there is an alternate take of "Don't Misunderstand". You can check it at below site.
http://www.screenarchives.com/title_detail.cfm?ID=10361
07 of "DISC TWO" (Shaft's Big Score!) is remix version of original and 17 is alternate take. (Apr.17, 2010)
---
#1.Greg Clayton made me know UNBELIEVABLE video on Youtube. (Feb. 10, 2010)



---
see Old >>"What's New"(~2004)

Infomation
go to "What's New" go to "Links"



---
· There are many guitarists who tribute their songs to Joe. You may know Lee Ritenor and Larry Carlton tribute "Remembering J.P." on their album "Larry & Lee".
I want to let you know some other guitarists who tribute their songs to Joe.

---
· Brad Powell tributes his "Passalaqua Suite" on the album "The Brad Powell Expedition" (Geofonica Records : P.O. Box 8237, La Crescenta, CA 91224)

· Chico Curzio tributes his album "Nuances" (Chico Curzio: Rua Machado Sobrinho 85,apto 500, Alto dos Passos, 36026-380 JUIZ DE FORA-MINAS, Brazil / e-mail: spinal@fusoes.com.brspinaljf@terra.com.br

· Branco Stoysin tributes his "Passalaqua" on the album "Still, It's Gonna Be A Sunny Day"
Go to "Branco Stoysin" web site

· Japanese King Record issed "Project G5 / A Tribute to Joe Pass"(KICJ 363)
Royce Campbell played with Gene Bertoncini, Charlie Byrd on guitar, Tommy Cecil , on bass and Chuck Redd on drums (east coast session), and played with Mundell Lowe, John Pisano on guitar, Jim Hughart on bass and Colin Bailey on bass DRUMS!! (west coast session).
(King Record Co., Ltd:1-2-3 Otowa, Bunkyo-ku, Tokyo 112-0013 Japan)
---
Links
go to "What's New" go to "Information"
---
Go to Carol Kaye web site: Carol Kaye is well known bassist among musicians. She recorded with Joe ("Better Days") and also published early Joe Pass guitar instructional books.

---
Go to Ulf Wakenius web site: Ulf Wakenius is the gutarist of Oscar Peterson Quartet. He loves Joe very much. His "ENCHANTED MOMENTS"(DRCD 278) was my favorite.

---
Go to "JGSWA" web site: "JGSWA"(The Jazz Guitar Society of Western Australia) was founded in 1989 and their first Patron was Joe Pass. They publish bi-monthly newsletter and in which they introduce new CD, player's interviews. The news letter is worth while reading for jazz guitar fans.

---
Go to Brad Powell web site: Brad Powell was a student of Joe Pass. We can hear a little bit of lesson scene on his CD titled "First Step In A Long Journey"(GF9-80001-2)

---
Go to Tetsuro's Blues and Jazz Page: My friend, Tesuro "Cleanhead" Kubo made "Tetsuro's Blues and Jazz Page". The site is specialized for Dee Dee Bridgewater, Jayne Cortez, Babs Gonzales, Eddie Jefferson, Eddie "Cleanhead" Vinson & Joe Lee Wilson.

---
Go to KEN BROWN'S WEB SITE: Ken Brown is a guitarist and a friend of Joe Pass. You may find interesting articles.

---
Go to Just Jazz Guitar's website: Just Jazz Guitar magazine is rare magazine JUST concentrate on JAZZ GUITARS & GUITARISTS.

---
Go to Dave Gould's Guitar Page : Dave Gould guitar page is specialized for Wes Montgomery, Django Reinhardt, Les Paul, Tal Farlow, Martin Taylor, Barney Kessel, Joe Pas and other jazz guitarist.

---
Go to Mike Evans Homepage: This web site is specialized for Howard Roberts.

---
Go to Colin Bailey Web Site: Of course, the only Colin Bailey's web site !!

---
Go to Brian Nova Web Site: Brian is a great guitarist, singer & good guy!! He was a good friend of Joe. I love his albums. Please listen them at his website.(hope you like them)
---
Go to Tomo Fujita Web Site: Berklee professor, Tomo Fujita received Joe's private lesson. Of course, he is a great fan of Joe Pass !!
---
Go to Peter Autschbach: German guitarist, Peter Autschbach received Joe's private lesson. You can read his great story at "Salan" section (article #074), too.
---
Go to Yoshiaki Masuo Website: No need to say about Masuo.
---
Go to Greg Clayton Website: My friend, great Canadian guitarist Greg Clayton website.
---
Go to Michael Ochs Archives Ltd.: You can see huge collection of photos of Rock, Pop, Soul, Jazz, Blues, Country and Gospel.
---
Go toJohn Pisano's Website: My friends, John and Jeanne Pisano website !!
---
Go to Jim Hughart's Website: Jim was the bassist of "For Django", a good friend of Joe Pass.
---
Go to John Phil Wayne Website: Very unique Solo guitarist.
---
Go to King Errisson Website: A Great Percussionist !!!
---
here is a part of Joe Pass Memorial Hall(J.P.M.H.)
If you happened to visit here by searchig something --->Go to Top Page of J.P.M.H.