Last updated: Feb.24,2002
What's new!
---
Tetrapacker| Buckminster Fuller| Opinion

---
Link| Handcraft! Handcraft!| Graphic works

Welcome to Fly Big Bird!
You are

visitor. Welcome, please stay for a while, enjoy!isince May 15 1996)



My homepage is named by my nickname "HiroBB" which my english colleague put me, consists of "Hiro" and "BB". "Hiro" is a part of my first name "takehiro" and "BB" means "Big Bird"="Eagle" - my family name consists of two word "washi" means "eagle" and "zu" means "nest"
---
This sight is pusue to concentrate citizen's opinion, critisism and objection or support about automobile society. And show new transportator proposal for the 21st century and the future era. Also intorduce Mr. Buckminster Fuler specially to Japanese. And then additionally introduce my graphic works.
@

Contents are following
---
I can't satisfy the present automobile society and life. I feel something surprising , unusual , strange and puzzling and I wonder why it is going like this.

Opinions form visitors about automobile life and society.

Sorry ! English version is being prepared !
---
Proposal

Animation of Tetrapacker . Please look at it ! .
ANIMATION !

One of proposal. What is Tetrapacker-Curved tetrahedron shaped car made by transperant modified cylinder .
Handmade and only one special car for you in the world.
Your own original electric vehicle.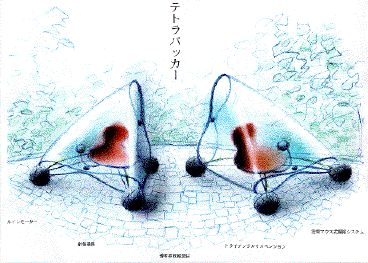 ---

Informations about electric vehicle in Japan!
---
My Favorite

Who is Mr. Buckminster Fuler?
Architect,engineer,inventor-engineer,cartographer and mathematician . Serious or joke?
---

My graphic work galerlly
---
Copyright belong toTakehiro Washizu . Graphic works, drawings , sketches are my original. But the tetrapacker is cooperate work with a few designers. These are made by my apple powerbook 165c. You can use all documents include graphic works freely , but when you want to use them please mail me. And link is free, but if you send me a mail , I 'll be pleased.

---

Go Back to Japanese Version Homepage !
---