ELP - THE VELVET COUTS OF "PIRATES"
Boot 2CD : HIGHLAND HL306/307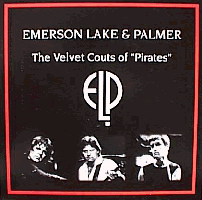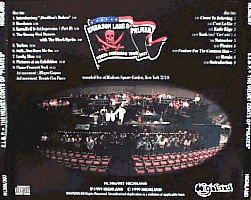 01)ABADDON'S BORELO
02)HOEDOWN
03)KARN EVIL 9
1st Impression Part 2
04)THE ENEMY GOD
05)TARKUS
Eruption
Stone of Years
Iconoclast
Mass
Aquatarkus
06)STILL ... YOU TURN ME ON
07)LUCKY MAN
08)PICTURES AT AN EXHIBITION
Promenade
The Hut of Baba Yaga
The Grat Gates of Kiev
09)PIANO CONCERTO NO.1
1st Movement
3rd Movement
10)CLOSER TO BELIEVING
11)CE'ST LA VIE
12)KNIFE EDGE
13)TANK
14)NUTROCKER
15)PIRATES
16)FANFARE FOR THE COMMON MAN - RONDO
---
1977/JUL/8 MADISON SQUARE GARDEN, NY
---
Keith EMERSON: Keyboards
Greg LAKE: Bass, Vocal & Guitars
Carl PALMER: Drums & Percussions
---
ELP played with orchestra.
K.Emerson played 1st & 3rd Movement in 09)PIANO CONCERT NO.1.
This is the best boot of ELP '77 Live with Orchestra.
---
[Home_Page_of_t-sumita][Music][ELP TOUR DATE][ELP Live Source]