3 (Emerson Berry & Palmer) - HOEDOWN IN RITZ!
Boot 2CD : HIGHLAND HL147/48#TH1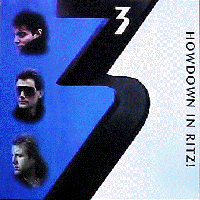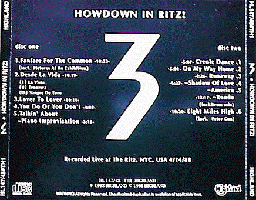 01)FANFARE FOR THE COMMON MAN
02)DESDE LA VIDA
03)LOVER TO LOVER
04)YOU DO OR YOU DON'T
05)HOEDOWN
06)TALKIN' BOUT
07)KEITH SOLO PIANO IMPROVISATION
(CREOLE DANCE)
08)ON MY WAY HOME
09)RUNAWAY
10)SHADOW OF LOVE
11)AMERICA-RONDO-DRUM SOLO
12)EIGHT MILES HIGH
---
1988/APR/14 THE RITZ, NY
---
Keith EMERSON: Keyboards
Robert BERRY: Bass, Vocal & Guitars
Carl PALMER: Drums & Percussions
---
This boot is very precious for 3 (Emerson Berry & Palmer) tour. 10)"Shadow of Love" is new song or original song of Robert Berry Band. It is very pop song with female choras.
---
[Home_Page_of_t-sumita][Music][ELP TOUR DATE][ELP Live Source]