Last Update Oct 15, 2006
---
PROFILE
---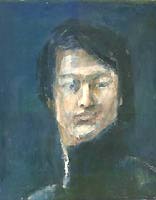 Self-portrait in Blue
Apl. 4, 1973
by Tsutomu Higo



No fellow said that this picture is my self-portrait.
You can see my latest figure in the page of [ My Summer in Taipei ].
---
Personality
Birth---------Libra 1949
Blood Type----AB Rh+
Family-------a Wife and a Daughter
Hobby--------Cooking
Sports-------When I was young, I like walking mountains and yachting. Recently I do swiming, jogging, and building up myself with dumbbells.
Body---------not fat and middle-size as elder Japanese
Favorite Artists------Vermeer, Giacometti, Klee, Modigliani.....
For an artist
From 4 years old, I played at "Donguri-Art-Circle". "Donguri-Art-Circle" is Artist Shigeru TAZAWA's private art school for juniors.
I studied in Chemical Engineering Course and was a member of a hobby art circle in my University.
I have been working in a corporation for the plants against emvironmental pollution. I sometimes drew illustrations for catalogues.
I studied painting portraits in a private art school with teacher Masatoshi Takabori from Nov. 2003 to Apr. 2006.
Now my teacher is Artist Shigeru TAZAWA.
I exhibited a work in The 70th Anniversary Exhibition of SHINSEISAKU 2006.
My machine is DOS/V.
I started the personal computer life by NEC PC-9801VX21 16-colors in 1888.
I started the internet with Macintosh Color Classic 2.
---
---
All rights reserved.
J.S.Bach
Invention for duet 01
by BUNBUN