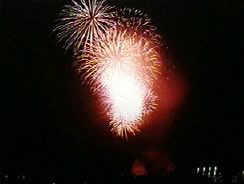 Firework viewed from Studio aHOYO in August
---
Studio aHOYO self introduction

We are husband (aHO: Hiromi Okamoto) and wife (Oneh-san: Yoshiko Okamoto) living in Tokyo. We are very much fond of early European music. Although we cannot take much time for music, unfortunately, it is still most important hobby for both of us!
---
Hiromi Okamoto
Born in Tokyo (1960)
Graduated from Univ. of Tokyo (1983)
Graduate study for Physical Chemistry for two and a half years
Joined Inst. for Molecular Science, Okazaki (1985)
Joined Univ. of Tokyo (1990)


Present: Associate professor at School of Science, Univ. of Tokyo
Doctor of Science
Research interests: Ultrafast, vibrational, and nonlinear spectroscopy
Yoshiko Okamoto
Born in Ehime (1958)
Graduated from Kanazawa Univ. (1981)
Stayed at Goethe Inst. at Murnau (1980)
Engaged in various jobs!


Librarian


Now looking for a good job.
---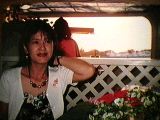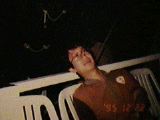 Oneh-san (left) and aHO (right) in Hawaii, December 1995

back to "about Studio aHOYO" page