Drill and learn the Japanese kanji!
This page uses CSS style sheets. Your browser must support style sheets to display it as intended. Maybe your browser DOES support style sheets, but :
you have disabled stylesheets (in your browser's preferences)
or you have disabled JavaScript (in your browser's preferences)
or for some reason the style sheet failed to load.
FIRST TRY TO RELOAD THE PAGE ONE MORE TIME.

Java
Unfortunately, browsers progressively stopped supporting Java and Java applets cannot be displayed any more.
Google Chrome stopped supporting Java with version 45 (September 2015)
Firefox stopped supporting Java with version 52 (March 2017)


History of the killing...
Starting with Java 7 Update 51 (January 14, 2014) Oracle has introduced the new requirement that all Java applets and Web Start Applications using the Java plug-in to run in browsers be signed with a trusted certificate.

These certificates are available from a number of commercial Certificate Authorities.

However the cost is prohibitive ($499 per year for a Symantec Code Signing for Java Certificate in January 2014) for a personal web site like this one.

These measures will lead to the disappearance of small personal websites that use Java technology.

However, Oracle describes a workaround to run an applet that lacks a trusted certificate if the Java settings are modified.

On Windows, go to Control Panel and click on the Java icon.
On Mac OS, go the System Preferences .

Keep the default security level on High and add this site address
http://www.asahi-net.or.jp/~ik2r-myr/
to the exceptions list (that means authorized sites).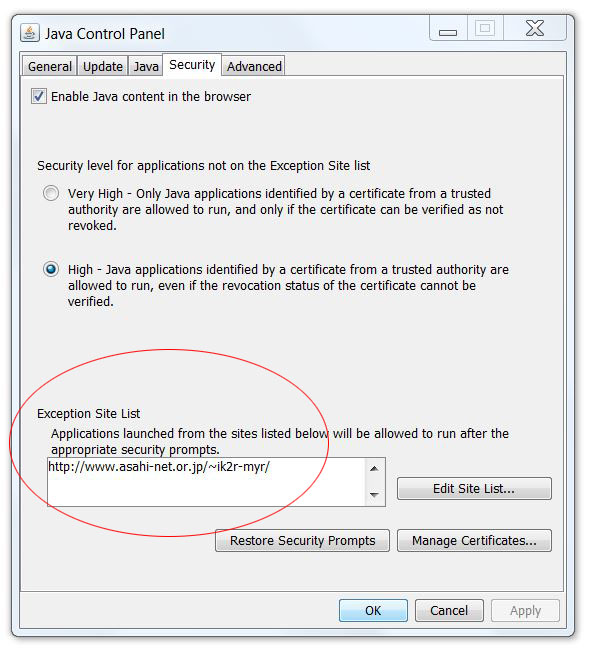 This site uses the standard "http" protocole and a message will warn you that http is more "dangerous" than https.
The "https" protocole encrypts communications and is required only for sensitive operations like payments and accessing online banking sites.
Http is fine in the present case as there is no exchange of information.
After you add this site address to your white list, you will unfortunately still be bothered by security prompts asking you for the authorization to run the applet.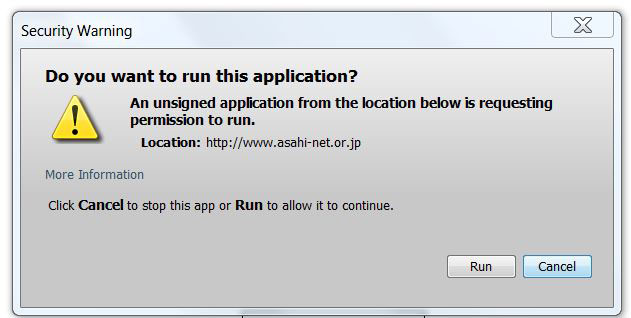 The message should not reappear as you move to new kanji sets, since the same applet will be relaunched.



Contact: support@japanese-kanji.com


Last update: April 2017