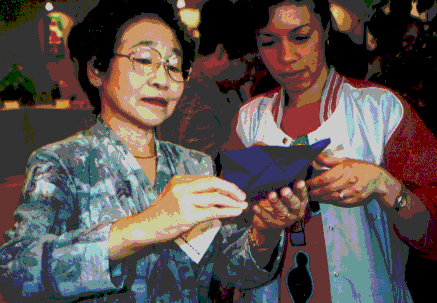 in Cannes,France
・1995 : Started studying Origami.
・March,1991: Qualified as a teacher of Origami.
・September,1991 : Participated in The Origami Event in Taiwan.
・March,1994 : Participated in Japan Culture Festival in Cannes, France.
・April,1996 : Participated in The 3-rd Spring Seminar in Korea.
---
 As the present activity, we fold paper at the meeting named "Shisui"(purple water),which is held once a month at the Labor-Welfare Hall of Ikebukuro,Tokyo.
 We sometimes use handmade Japanese paper in order to express seasonal feelings in one's own way..That makes each one's work different to each other.
 I also teach Origami as a volunteer to the aged people for the rehabilitation at the day care center of Komazawa Clinic, twice or three times a month.