Cockatiel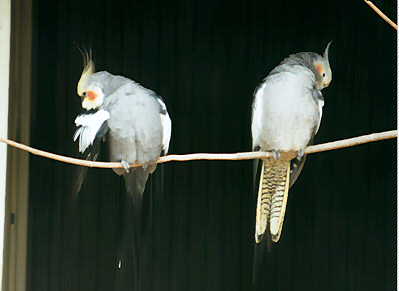 In Currumbin Sanctuary, Palm Beach, QLD, Australia (Feb. 27, 1997).
---
It is easy to distinguish between male and female. Male has black tail feathers (the left in the above photo) while female has black stripes in yellow feathers (the right in the same photo).
Since Australia prohibits the exportation of wild birds and animals, there is no case cockatiels are introduced to Japan directly. But a large amount of the birds are bred as pets in the world.
We have two cockatiels.
---
Note
Science name: Nymphicus hollandicus

English name: Cockatiel