Ganggang Cockatoo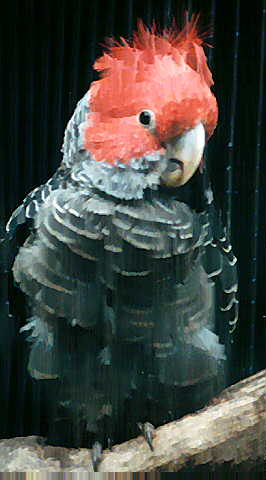 In Currumbin Sanctuary, Palm Beach, QLD, Australia (Feb. 27, 1997).
---
When we visited the cage, he repeatedly said something. However, he was too fluent for me to understand what he said. Although I heard him say "What are you doing?", my wife heard him say "How do you do?" or "How are you?" Since she is better at English conversation than me, I throught the bird said the latter words. The male bird was fond of speaking, and continued to speak when we were there.
The head of a female is not red.
---
Note
Science name: Callocephalon fimbriatum

English name: Ganggang Cockatoo