Double-eyed Fig Parrot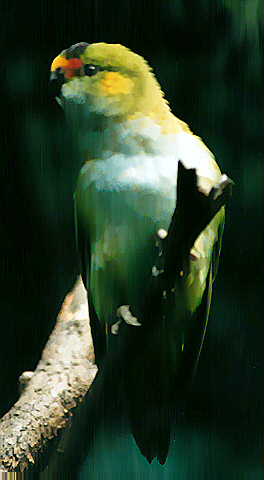 In Currumbin Sanctuary, Palm Beach, QLD, Australia (Feb. 27, 1997).
---
The name FIG PARROT of the birds was named after their food, that is, FIG TREE. There are a lot of sorts of fig trees in Australia. Of them there was a FIG tree I couldn't believe to be a FIG tree.
They mainly live in New Guinea, but are also resident in the eastern Australia. It is the most developed area, so that the birds have come rare, and they are in danger of extinction.
When we visited Currumbin Sanctuary, a couple were preening each other. Since I hear they succeeded in breeding in Currumbin Sanctuary, these birds maybe did so.
---
Note
Science name: Opopsitta diophthalma

English name: Double-eyed Fig Parrot