Gray Heron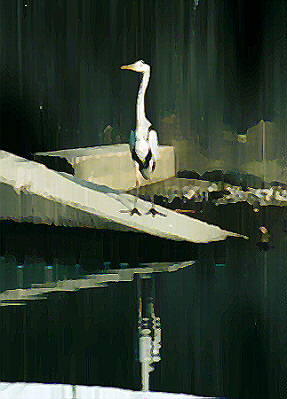 In the TOMIO-RIVER, Nara, Dec. 31, 1996.
---
Gray Heron is the largest of Japanese herons. It is about 1m long and 1.5m or more wide, and therefore the flying form of the bird is as wonderful as that of a stork. It is admirable that such large birds can be seen at any place in Japan. This large bird appeared at every place, Osaka, Nara, Shiga...where I have lived.
When I visited the ADO-River in the northern section of SHIGA, I came accross a wood where gray herons form groups. They nested here and there in the small wood. Any nest was about 20m high. It was very difficult to take a picture with my 200mm zoom lens. Since I came too close, the nesting birds looked down at me with anxiety. Excuse me for my more approaching...The small wood was surrounded by many bulldozers. Maybe they was telling the previous good(?) times. Wishing the wood is safe, I left there.
---
Note
Science name: Ardea cinerea

English name: Gray Heron

Japanese name: AOSAGI (meaning "blue heron")

resident

length: 93cm

monomorphic