Last up date:2006/04/02
AMAZING MODERN CREATIVE KITE TRAINS

---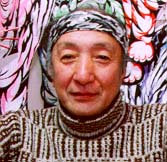 This page was generated with the permission by Mr.Toshiharu Umeya.

Mr.Toshiharu Umeya is very famous for his amazing creative modern kite trains. He got his creative idea for Horse, Dragon and other animal kites from the tomograph images of CT scanner which were taken at the surgical operation of his aneurysm. He has been building many kinds of animal-kites which appeared in the sexagenary cycle of the twelve horary signs. His creative kites were reported in the local newspaper every time whenever he built new kites. He has been a teacher of art at high school and over thirty years he devoted his effort in the creative kite making. After retired, he founded the creative kite studio, Sousaku Takoharu Kobo (Creative Takoharu Workshop) and has been enjoing the lecture meeting of his creative kites and workshop activities around Japan. He is a member of the Japan Kite Association.


(3-10-21, Yamanote, Hakodate city, Hokkaido 0410836 JAPAN)
Phone: +81(Japan)-0138-52-4532

Click on the picture for large image. Photographs except #7, #8, #9, #10, #12 were taken by Photographer Yukio Morinaga who was his former pupil.



---
| | | | |
| --- | --- | --- | --- |
| | | | |
| #1 Tsukinamiusagi | #2 Tsukinamiusagi | #3 Tiger on snow | #4 Flying Tiger |
| | | | |
| --- | --- | --- | --- |
| | | | |
| #5 Flying Cow | #6 Flying Jump | #7 Flying Horse & Cow | #8 Walking in the sky |
| | | | |
| --- | --- | --- | --- |
| | | | |
| #9 Flying Horse | #10 Flying Horse | #11 Dragons in the sky | #12 Jump to the Sky |
Top Page
MAIL BOX
MASTERS OF KITES IN JAPAN