Last up date:2004/01/12
KITES OF BIRDS

---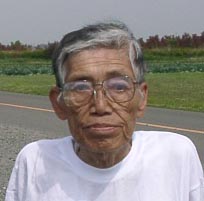 This page was generated with the permission of Mr.Kazue Tanaka.

Mr.Kazue Tanaka is very unique master of kites of birds. He builds his kites with Washi (Japanese Handmade Paper) and sooty bamboo which has been exposed in smoke for a long period. His small tombi-style birds incorporates the intricate structure critical to the kite's design while featuring delicate and realistic painting that can seasily fool the casual observer into momentarily thinking the image is a real bird. He is challenging to make many other kinds of kites of birds. His career of kite making is about sixty years. The flight feature of his kites are very excellent in medium wind speed around 3 - 6 m/s.
(Seta Haitsu 101, 1-30-31,Seta,Setagaya-ku,Tokyo 1580095 JAPAN)

Click on the pictures for large image.



---
| | | | |
| --- | --- | --- | --- |
| | | | |
| Bird #1 | Bird #2 | Bird #3 | Bird #4 |
| | | | |
| --- | --- | --- | --- |
| | | | |
| Bird #5 | Bird #6 | Bird #7 | Bird #8 |
| | | | |
| --- | --- | --- | --- |
| | | | |
| Bird #9 | Frame construction | Sail sheet of paper | Pasting the wing paper |
---
Top Page
MAIL BOX
MASTERS OF KITES IN JAPAN