Last up date:1999/08/18
MASTER OF BARAMON KITE

---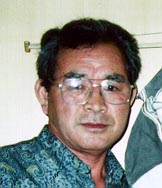 This page was generated with the permission by Mr.Ichizo Sagawa.

Mr.Ichizo Sagawa is one of the masters of Baramon kite which is called as a original figure of Tojin kites around Japan. The origin of Baramon is Nagasaki Prefecture. The Baramon kite was displayed at the international exposition which was held in 1889 at Paris. He will be able to receive the order of Baramon kite.

Address: 3-18-35, Nishimikuni, Yodogawa-ku, Osaka-city 5320006 JAPAN
Tel: +81(Japan)-6-6391-3397
FAX: +81(Japan)-6-6391-3397

Click on the pictures for large image.



---
| | | | |
| --- | --- | --- | --- |
| | | | |
| #1 Kenbuso | #2 Dragon Face | #3 Crane and Turtle | #4 Clouds and Dragon |
| | |
| --- | --- |
| | |
| #5 Hata and Mr.Sagawa | #6 Baramon and Mr.Sagawa |
---
Top Page
MAIL BOX
MASTERS OF KITES IN JAPAN