Last up date:1999/09/25
MASTER OF TSUGARU KITE

---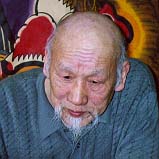 This page was generated with the permission by Mr.Keizo Nakano.

Mr.Keizo Nakano is a master of Tsugaru kite. He was born in 1929 and has been building Tsugaru kite since 1947. He is the third generation of traditional Tsugaru kite. He has published a book, Mushae Hyakutai (A hundred kinds of warriors) in 1986. He disclosed his artistic technique of Mushae in this book. Tsugaru kite is different from other traditional Japanese kite because it has wooden frame instead of bamboo frames which are used in other Japanese traditional kites. He will receive a mail order from overseas.

Address: 197 Watoku machi, Hirosaki city, Aomori Prefecture 0368021 JAPAN
Tel&FAX: +81(Japan)-0172-32-7033

Click on the pictures for large image.



---
---
Top Page
MAIL BOX
MASTERS OF KITES IN JAPAN