A. Greeting
B. Who We Are
C. What We Believe
D. Where We Live
E. Our Testimonies
Pastor Shin-ya; His wife Mrs. Hatsuho Shin-ya

---
A. Greeting
This website is originally made to tell Japanese people the Good News of Christ. But Jesus told us in the Bible to preach the Gospel to all creation, so we decided to translate this site into English in order to preach the Good News to as many people as possible.
This English version has not necessarily the same contents with Japanese one for several reasons. The ability of the translator myself and understanding ability of recipients make the difference inevitable.
We have begun to make the English version of this website just now. The contents are few. We are going to add new articles as soon as I will have written them. Please remember this page and come to see us frequently.
There appear some young people in present time Japan who are able to speak English fluently. But they can not necessarily read English well. In the other hand some intelligent elderly people in our generation cannot speak, but can both read and write English to a certain degree. Both my wife and I are able to read English, but cannot speak well.
B. Who We Are
We are a couple of a pastor and his wife in their sixties. We had moved here Awaji Island from Tokyo several years ago in order to live on our annuity and proclaim the Good News to the people living around us.
Now we keep Sunday Worship at our house church named Higashiura 31Church. 31 means 3 and 1,that is,the Trinity of Our God of course . What we believe and the testimony of our faith are written bellow.
C. What We Believe

We confess our faith briefly according to the Apostolic creed.

I believe in God the Father almighty, maker of heaven and earth;

We believe in God the Creator, who made everything seen and unseen and who is triune God having three persons and being one.

and in Jesus Christ his only Son, our Lord; who was conceived by the Holy Ghost, born of the Virgin Mary; suffered under Pontius Pilate, was crucified, dead, and buried; he descended into hell, the third day he rose again from the dead; he ascended into heaven, and sitteth on the right hand of God the Father almighty; from thence he shall come to judge the quick and the dead,.

We believe in Christ Jesus, Father's beloved only Son whose birth was virgin birth and whose life was sinless. He was true Man and true God. He was resurrected from the dead into the glorious and heavenly body who could enter through the shut door and but had real physical body which the disciples could touch.

I believe in the Holy Spirit; the holy catholic church,the communion of saints; the forgiveness of sins; the resurrection of the body; and the life everlasting. Amen.

We believe that the purpose for Christ to have come to the world was to remove the sins of us believers and to lead us into eternal life both in this world and in the world to come. We want to stay with our Redeemer Jesus in belief forever. Amen.



D. Where We Live

World Map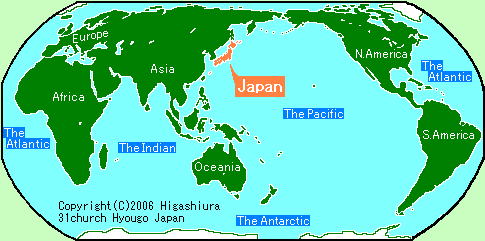 We live in Japan, where the world map indicates. Japan is composed of lots of islands which are located in a long shape from Okinawa to Hokkaidou. Japanese people live in various kinds of climatic and geographic circumstances, which bring them up to those having various kinds of disposition and spirits.

Japan has far less Christians than 1% of it's population. And an ordinary Japanese thinks that Christian church or Christianity has no relation with himself. They,however,enjoy Christmas Eve tasting Christmas cake with their families, of course, without Christ. And the same people worship at Shinto shrine in the new year days. Many young people have a longing for Christian style bridal.And at their time to die, their families hold funerals in Buddhist form.



E. Our Testimonies

1. Pastor Hiroshi Shin-ya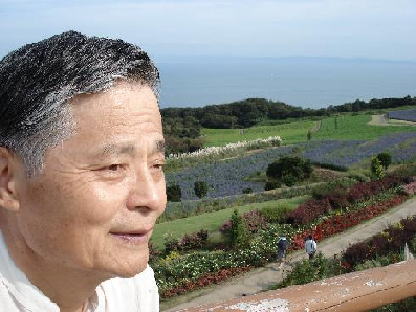 Taken on the 24th September 2006 at Hanasajiki in Awaji city


When I was an infant, my parents brought me to a Shinto shrine where I was "purified" by the priest in the name of a Japanese god. Before school days, I spent weekdays in a Buddhist kindergarten.

In an elementary school days, I met a classmate who went to a Sunday church school. And I had known the existence of Christian Church for the first time. The classmate was a smart and good boy, that I felt myself drawn to the Sunday school. But I did not go to the church then which I knew afterwards was a modernist church and which did not believe miracles in the Bible. It was the best for me not to go there, for there is no salvation in the modernist churches.

A friend of mine in junior high school times gave me a small book which I knew a few years later was a copy of New Testament distributed widely by The Gideon International. I treasured it, but I'd never read it. I only regarded it as if it was a good luck amulet.

A summer time before graduating from senior high school, I went with my big brother to a Bible class which was led by an American couple of Calvinistic Baptist missionary. I felt that they had love, peace, and joy which I had never met in my life. After three months, I decided to be baptized by them because they were about to leave for their new missionary place. Though I loved Jesus, I did not have an unwavering confidence of my salvation.

Through voracious Bible reading and ordinary church attending, I gained a confidence of salvation gradually, but certainly and at the same time was laid a burden to preach the Gospel. That came with the passages of Ezekiel 3:17-21, which says as follows,

"Whenever you hear a word from my mouth, you shall give them warning from me. If I say to the wicked , 'You shall surely die,' and you give them no warning, or speak to warn the wicked from their way, in order to save their life, those wicked persons shall die for their iniquity; but their blood I will require at your hand."

After having graduated from Chuo University philosophy course, I entered and graduated from Kobe Reformed Seminary. And I was sent to Wakayama missionary church as a preacher. Three years later, I wanted to be an independent missionary and resigned from Reformed Church. Since then, working as a teacher and runner of a tiny school for pupils' supplementary lessons one time and a taxi driver another time, I led a small flock into Christ.

These days I wanted heartily the spiritual power to work for the Lord and met a book "Prison to praise" by Merlin Carothers who was the founder of the Praise The Lord movement and I had a firm belief that what the writer said was true in the light of the Bible. Since then, I have been speaking other tongues and believed healing by the name of Jesus and experienced them, which were not many though.

When I examined myself on the resignation from Christian Reformed Church in Japan, I thought it might have been rather hasty decision, but I perceived later that it was the best selection. Because one of my classmates in the seminary was excommunicated from the church on the charge of speaking tongues after receiving the Holy Spirit Baptism. Being excommunicated from the church because of the Name of the Lord Jesus is a blessing for us Christians. I resigned the church a little earlier, so I failed to get the honor.



2. Hatsuho Shin-ya

Fifty years ago, my family and I moved from here Awaji island, where we are living now, into a town in the other prefecture a great way off because of my father's business. At that time, being a schoolgirl of a junior high school, I felt deep sorrow for my leaving from classmates and teachers of mine whom I loved and who loved me. The Lord, however, had provided an encounter with an American missionary who led me to Christ.

When I was the third grade student of a senior high school, a Bible class was held in a small room at a town hall. I presented myself at the meeting. My first aim to be there was to learn English, because it was led by a native American missionary. The second one was in a vague hope to find the purpose to study and furthermore to live.

The American missionary made me astonished by saying that we were sinners in the presence of God. I thought I was never a sinner, because I studied hard every day for entrance exam into college and have never committed a crime to be punished in a prison. I was one of ordinary girls, might not been a saint though. I had never thought in my life that I were a sinner.

The Bible,however,tells us
"So you also on the outside look righteous to others, but inside you are full of hypocrisy and lawlessness." Mat.23:28.
I was shocked by these Bible verses.

Evil thought, falsehood, slander, envy, haughtiness, hatred etc. Had I never committed a crime in the face of God? I felt quite stricken with shame, when I searched my heart and found that I had hated others, envied and told lies. The largest sin of mine, I found out, was living every day life without believing in the Maker of the world and myself. That is as if bad children live neglecting their parents. Heb. 9:27 says
"it is appointed for mortals to die once, and after that the judgement".
I perceived that I had to go to hell if I continued to live as I did.

One night, I dreamt a dream, in which I was left alone in utter darkness. Waking up, I thought the Lord taught me the fearfulness of living without God and the Judgement.

I believed in the Lord Jesus from the bottom of my heart, who died for my sin and instead of me on the cross. And being led by a pastor in the time of summer camp, I offered a prayer of repentance unto God.
"If you confess with your lips that Jesus is Lord and believe in your heart that God raised him from the dead, you will be saved. For one believes with the heart and so is justified, and one confesses with the mouth and so is saved" .Rom.10:9,10.
So I was baptized and became a Christian. The whole of my heart was filled with peace and joy, which abided within me until now.

After a while, I once again dreamed a dream, in which I was clothed with a white robe resting by the river flowing gently and being enveloped with light. It was so clear that I could remind it vividly as it were yesterday's night dream even now forty five years later. The Lord certified me, I was sure, of the grace of my salvation by the dream.

After I became a Christian, I went through a lot of tribulations: difficulties, sadness, illness, financial distress and so on. But the Lord gave me and the family of mine help and grace each time and led us safely until now.

"For we do not have a high priest who is unable to sympathize with our weakness, but we have one who in every respect has been testified as we are, yet without sin".Heb.4:15.Hallelujah, Amen !




16 April 2006 Published
http://31church.net