---

Insect Stamp of Sweden
---
Sweden which a Lapp did an ex-chief priest of became to be widely known since it came to perform a pirate / public interest activity in the viking times after the ninth century. It paid Finland to a follower in the thirteenth century, but it was incorporated Norway in the Denmark-led kingdom together in the end of the fourteenth century and restored independence in 1532. It ruled over Baltic Sea again and expanded the territory afterwards. However, it did cession of Finland in Russia from 1809, and the territory was reduced. The Napoleonic Wars defeat back formed Norway and the United Kingdom of Great Britain and Ireland, but Norway became independent in 1905, too, and a current country was decided.
The stamp which it drew an insect on was issued in 1979 and 1987 each one kind and two kinds by this Sweden. Yellow Pamace Fly is drawn on one kind of the Novel Laureates in physiology stamp issued in 1989.
A bee stamp was issued in 1990. Three kinds of insect stamps were issued in 2008.
---
Kingdom of Sweden
1979.9.6 Normal Coil Stamp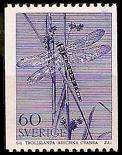 Southern Hawker
Aeshna cyanea
(Aeschnidae)
---
1987.3.10 Normal Booklet Pane /Coil Stamp
Mnemosyne Parnassius
Parnassius mnemosyne
(Papilionidae)
Hermit Beetle
Osmoderma eremita
(Scarabaeidae)
---
1989.11.24 Novel Laureates in Physiology Coil Stamp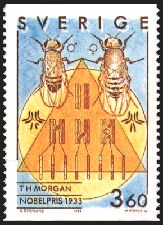 Yellow Pamace Fly
Drosophila melanogaster
(Drosophilidae)
---
1990.5.15 Honeybee Booklet Pane Stamp
Worker bee
Worker bee
Worker bee
Worker bee
Western Honeybee
Apis mellifera
(Apidae)
Male bee
Queen bee
Western Honeybee
Apis mellifera
(Apidae)
---
2008.1.24 Insect Coil Stamp
White-tailed Bumble Bee
Bombus hypnorum
(Anthophoridae)
Red Wood Ant
Formica rufa
(Formicidae)
Seven-spotted Ladybug
Coccinella septempunctata
(Coccinelidae)
---

NEXT

to Stamp

to HomePage