A7Xpg
for Windows
A7Xpg ver. 0.11
(C) Kenta Cho(ABA."Saba")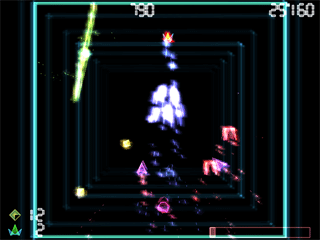 Old school chase action game 'A7Xpg'.
How to play
Control your ship and gather golds. The ship accelerates while holding the boost button. A boost power runs out about 1.5 seconds, so you have to push the boost button again to maintain the speed.
The gauge at the right-down corner is the power gauge. The power increases when you take a gold at high speed. When the power gauge becomes full, your ship becomes invincible for a while. Attack enemies and earn the bonus score.
Download
A7Xpg is the free software for Windows(OpenGL required).
Acknowledgement
Comments
If you have any comments, please mail to cs8k-cyu@asahi-net.or.jp.