My life and toilet
On the way to my office, I got diarrhea and went to use a toilet at a station. So I was late for work.

When I think of my life, it has been full of shit. I have always searching for toilet.
During my school days, even on the day of entrance examination for my university.

And now I am running for Toilet.

I guess what moves me is not my will but my shit.Perhaps I am just a container to keep a shit.
---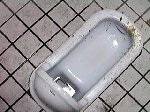 When I was in toilet at a station I often wonder why this toilet is such dirty?
If I had known where beautiful toilet is,I would not use this dirty toilet and would not buy toilet papers for 100yen!

Tokyo Toilet Map is an attempt for avoidance using dirty toilet and for making my life cheerful.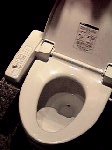 In my life I often have diarrhea and searching Toilet.
A standard of Tokyo Toilet Map
I check the men's toilet. Because I am man.
Mainly I check toilet at stations.
It may be women's toilet version with my wife's cooperation.
I check toilet for who do whose buisiness.
I collect graffiti. Because it is fun.
I'm sorry for my poor English
return to homepage